A beautiful way to add nature to your home
Framed Photography
Ordering large framed photography is a quick and convenient way to add a dash of natural drama to your space. All of my prints can be ordered ready-mounted – simply select your desired frame and then hand over the reins to us. 
We'll ship your chosen prints in fully assembled frames, with all the necessary hardware needed to hang them on the wall. From gallery walls to large oversized prints, we aim to make the process of choosing and hanging artwork as easy as possible.  
Framed nature photography is all about celebrating our environment and the animals within it, which is why we are committed to environmentally-friendly packaging, with custom cut cardboard and minimal single-use plastic. 
Frames are available in wood or metal options. Scroll down to learn more about each style.
Picture Frames Made From
Natural Wood
What better frame for a rugged country print than one made from natural materials? Wood is a versatile choice that suits every interior space, with soul-soothing grain and texture. 
Made from solid North American hardwood which is stained or painted, and never modified. 
Includes a clear acrylic front- ideal for shatter-free shipping and lightweight hanging. 
Available for prints sized up to 30"x40" (with matting up to 24"x30"). 
A unique unaltered grain pattern that varies from frame to frame.
Four refined color options available.
Natural Wood
Let nature shine with a trendy and tasteful take on unfussy styling. Light, fresh, and uplifting – just as Mother Earth intended.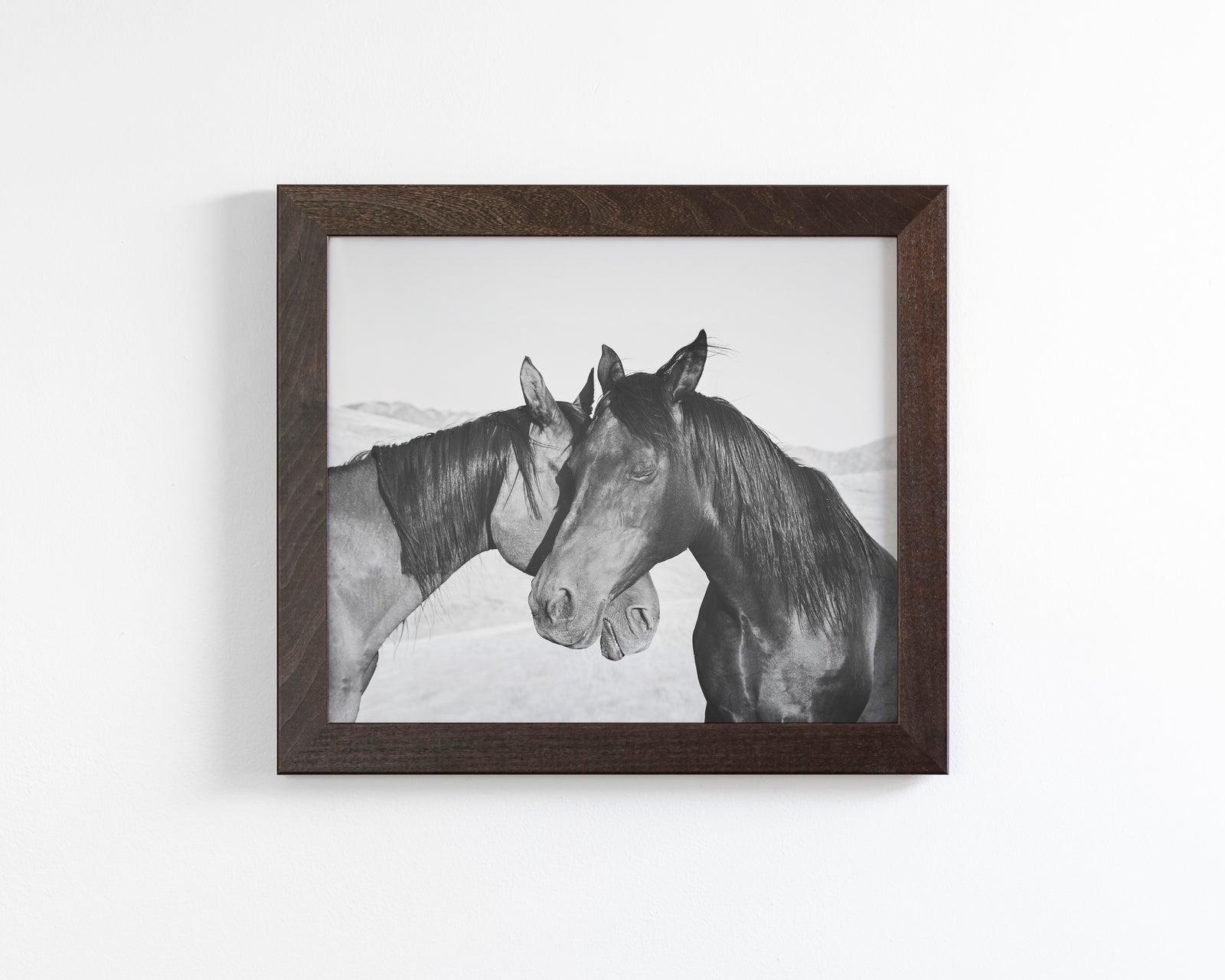 Cocoa
Opt for rich chocolatey tones to complement the timeless appeal of the images set within. Ideal for traditional, rustic, or farmhouse interior design schemes.
Black
With a hint of natural grain beneath, black blends modern minimalism with time-honored craftsmanship. Makes for a bold accent against your chosen image.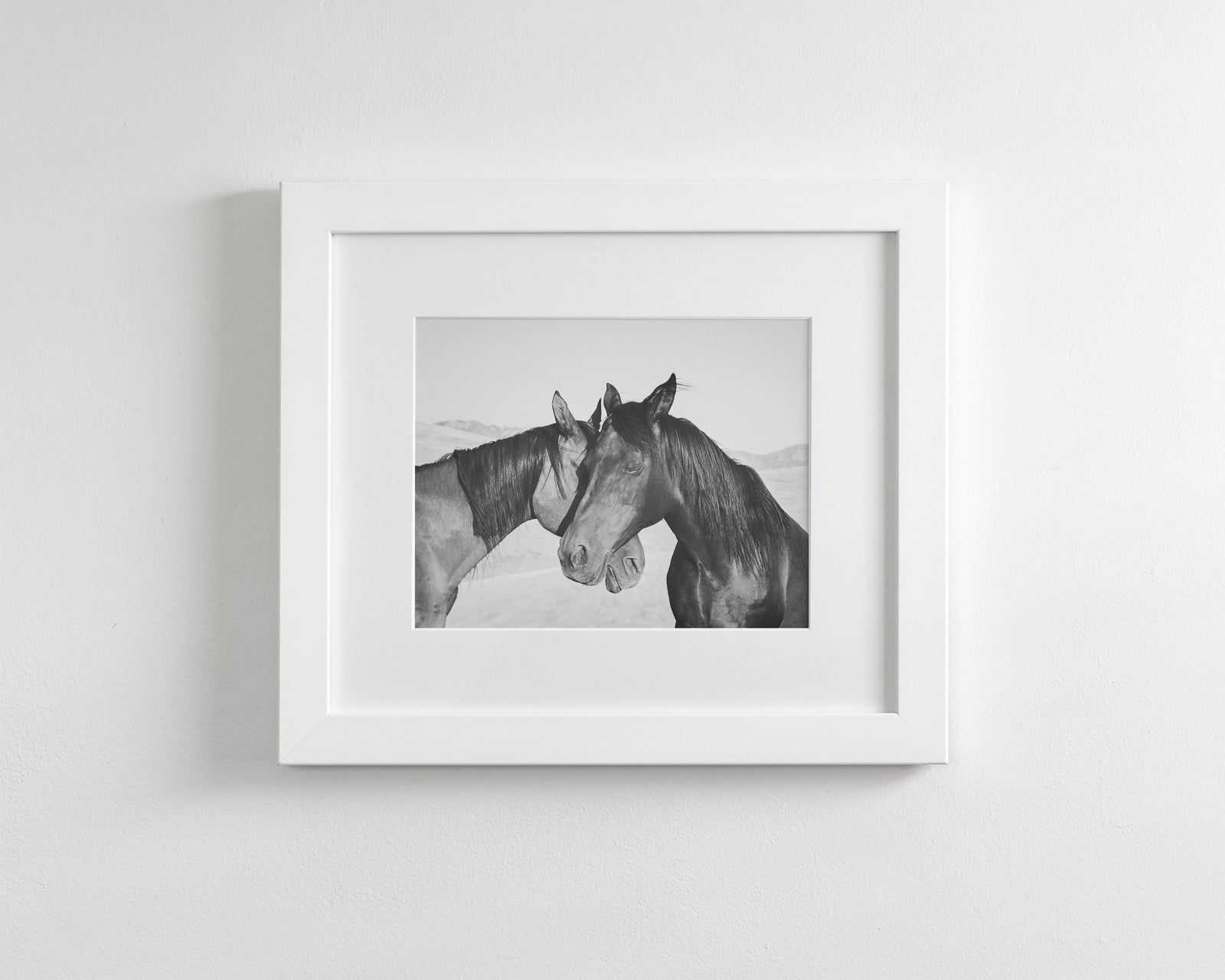 White
Airy and unobtrusive, white painted wood is a clean look to help your space appear brighter. This clean look lets the photography do all the talking.
Metal Frames
If you're looking for framed, oversized art, metal frames are the way to go. Chic and contemporary, metal frames bring an edge of sleek elegance to any space. Ideal for elevating nature-based images with a high-impact, modern accent. Available for extended sizes up to 60"x40." 
Made from extruded aluminum with a corrosion-resistant finish. 
Two statement-making colors available.
Includes a clear acrylic front- ideal for shatter-free shipping and lightweight hanging. 
Available for prints sized up to 60"x40" (with matting up to 30"x24"). 
Innovative Corners are screwed, not glued, for quality assurance and ease of shipping.
A contemporary thin frame with a flat profile face that is ⅜" wide.
Black
A bold and beautiful choice to complement heart-stopping, spirited photography. Black metal can blend seamlessly in any space while drawing the eye to the beauty within.
White
A classic, California-inspired look, white is easy, breezy minimalism at its finest. Perfect for sleek design schemes and contemporary contrasts alike.